Read updated Current Affairs
Read current affairs in Hindi (Click here)
Read current affairs in English (Click here)
Five individuals and an organization from Indonesia, Japan, Philippines, Singapore and Sri Lanka received on Thursday the prestigious 2017 Ramon Magsaysay Award, Asia's equivalent of the Nobel Prize.The Ramon Magsaysay Award Foundation honored the awardees, who collectively "advanced causes to improve lives and transform societies across Asia."

The 2017 Magsaysay Awardees are: Yoshiaki Ishizawa, Japan; Lilia de Lima, Philippines; Abdon Nababan, Indonesia; Philippine Educational Theater Association, Philippines; Gethsie Shanmugam, Sri Lanka; and Tony Tay, Singapore.
Japanese scholar Ishizawa, led conservation efforts in Cambodia's Angkor Wat in the 1980's – which was then in danger of destruction – by campaigning in Japanese media and working with Cambodians.
De Lima, the first Philippine Economic Zone Authority (PEZA) Director-General, led reforms at the agency, allowing the Philippines to rise as one of the region's top investment destinations. Despite criticisms, she streamlined PEZA's operations by halving its 1,000-person bureaucracy and promoting a culture of transparency and honesty.
Nababan, founder of Indonesian nongovernment organization Aliansi Masyarakat Adat Nusantara or Indigenous People's Alliance of Archipelago, was known for his advocacy affecting his country's indigenous peoples. He worked with communities and government in legal reforms, conflict settlement and economic empowerment.
PETA was the only organization that was awarded this year. It has greatly contributed in shaping theater arts in the Philippines as a force for social change."Its impassioned, unwavering work in empowering communities in the Philippines, and the shining example it has set as one of the leading organization of its kind in Asia," the Foundation said.
Shanmugam, on the other hand, has devoted four decades of her life working for the Sri Lankan people displaced by war. She has worked "under extreme conditions" to rebuild war-scarred lives by providing psychosocial support and counseling to the victims.For 14 years, Tay fed the poor in Singapore through "Willing Hearts," a volunteer-based, non-profit organization that distributes hot, packed meals daily to the poor.
The group now cooks 6,000 meals daily by 300 regular volunteers.
The Ramon Magsaysay Award, Asia's premier prize, is now on its 59th year.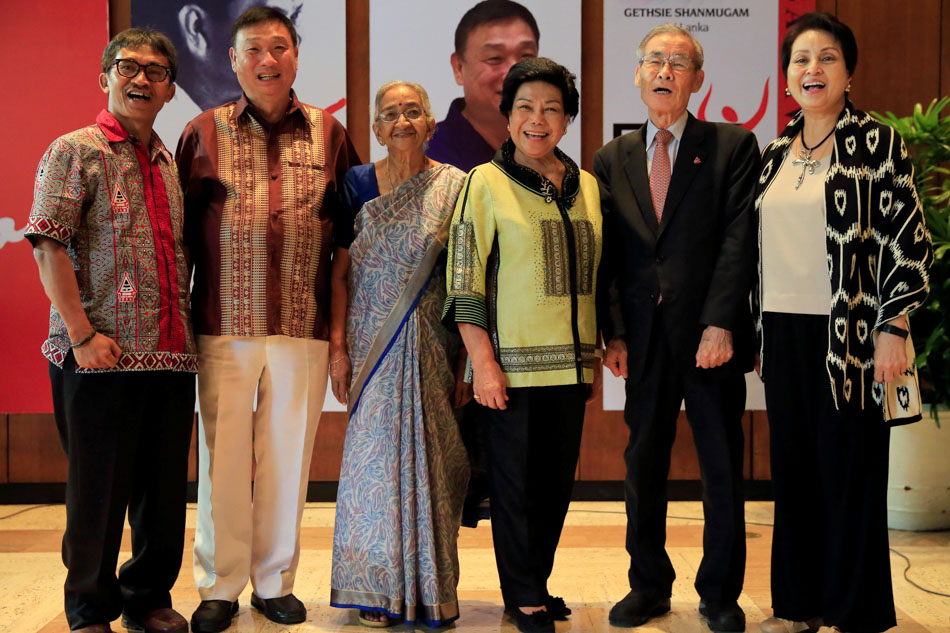 Winners of the 2017 Ramon Magsaysay Award pose for a picture after a briefing inside the Ramon Magsaysay headquarters in Manila, Tuesday. Abdon Nababan of Indonesia (left to right), Tony Tay of Singapore, Gethsie Shanmugam of Sri Lanka, Lilia De Lima of Philippines, Yoshiaki Ishizawa of Japan and Cecilia Garrucho, representing the winner Philippine Education Theater Association (PETA).